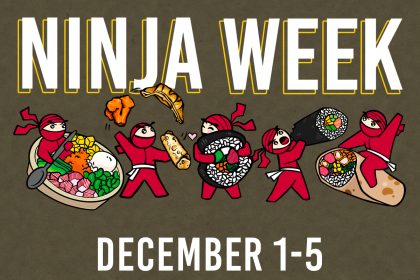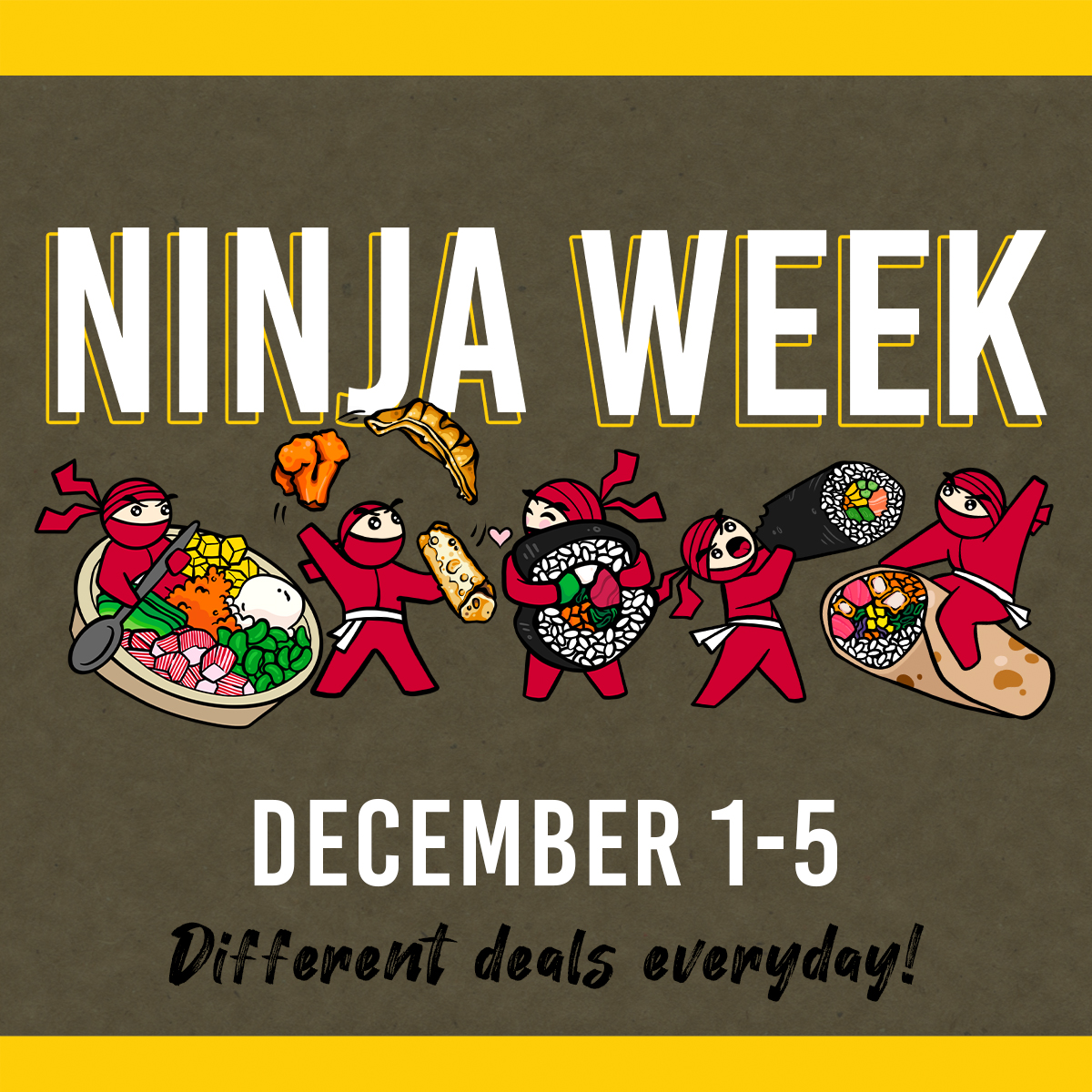 Sus Hi Eatstation is celebrating Ninja Week on December 1st through the 5th!
There will be ah-mazing deals each day. I can't decide which deal I'll be choosing, so I'll just go to them all! Here's the first one!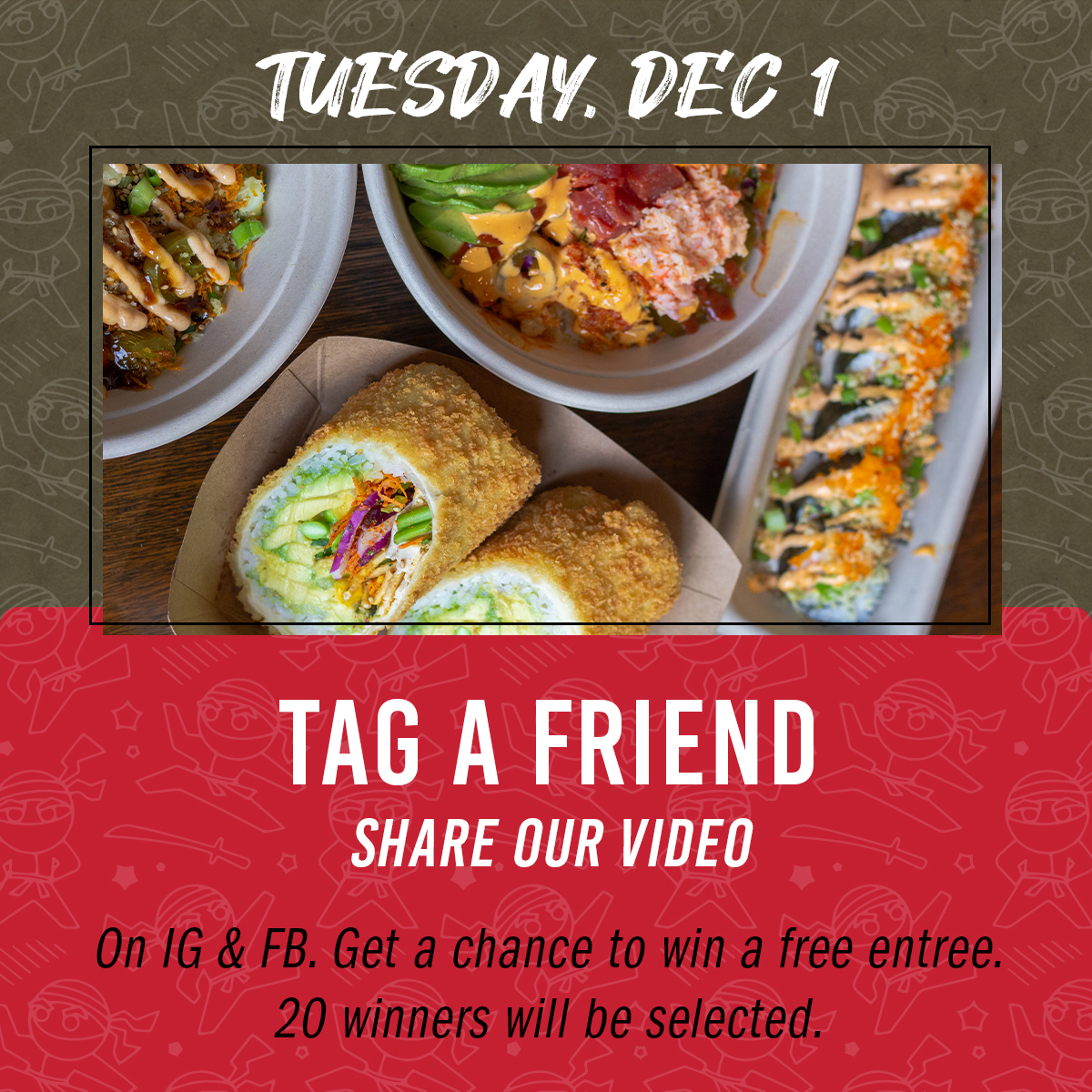 Day 1: Tuesday, December 1st, 2020
They're kicking off Ninja Week with an online competition first! And it's SO easy to enter.
Sus Hi Eatstation will be sharing a video on their Instagram and Facebook platforms.
All you gotta do is tag a friend in the comments to enter. Yeah, that's it! Soo easy, amr?
On December 5th, 20 winners will be selected at random and will be announced that evening!
Each winner gets a free entree – roll, bowl, burrito, or mini nori 🤤
(p.s. tag as many friends as you'd like! There is no limit so go ham!)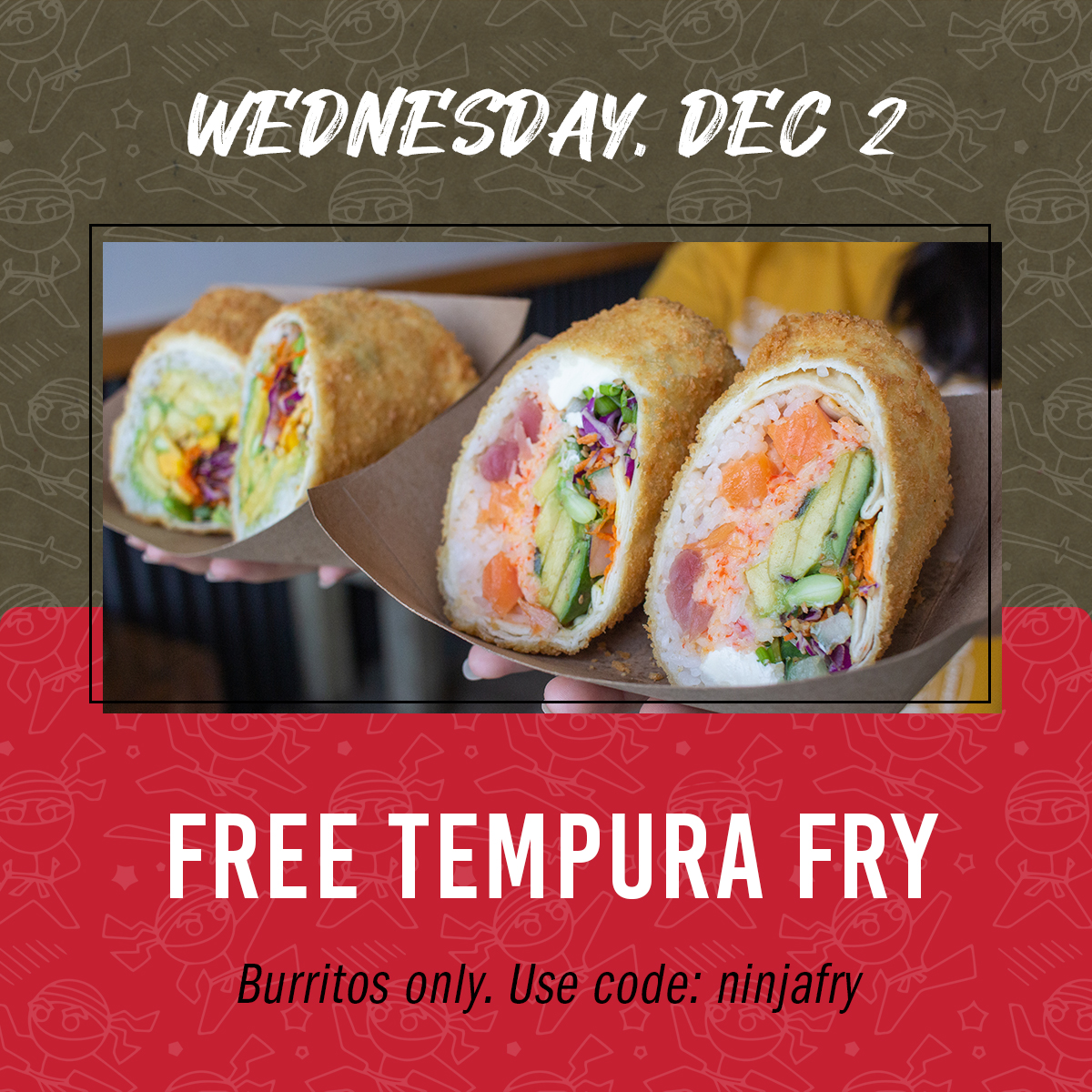 Day 2: Wednesday, December 2nd, 2020
Who is crazy obsessed with Sus Hi Eatstation's fried burritos? Raise their hand 🙌🏼
Well, this day is for all of ya.
You can come in and get your burrito FRIED for FREE.
I think I just shed a happy tear.
You can get this deal in-store at any of the Dojos or use the code 'ninjafry' at checkout on the Sus Hi app!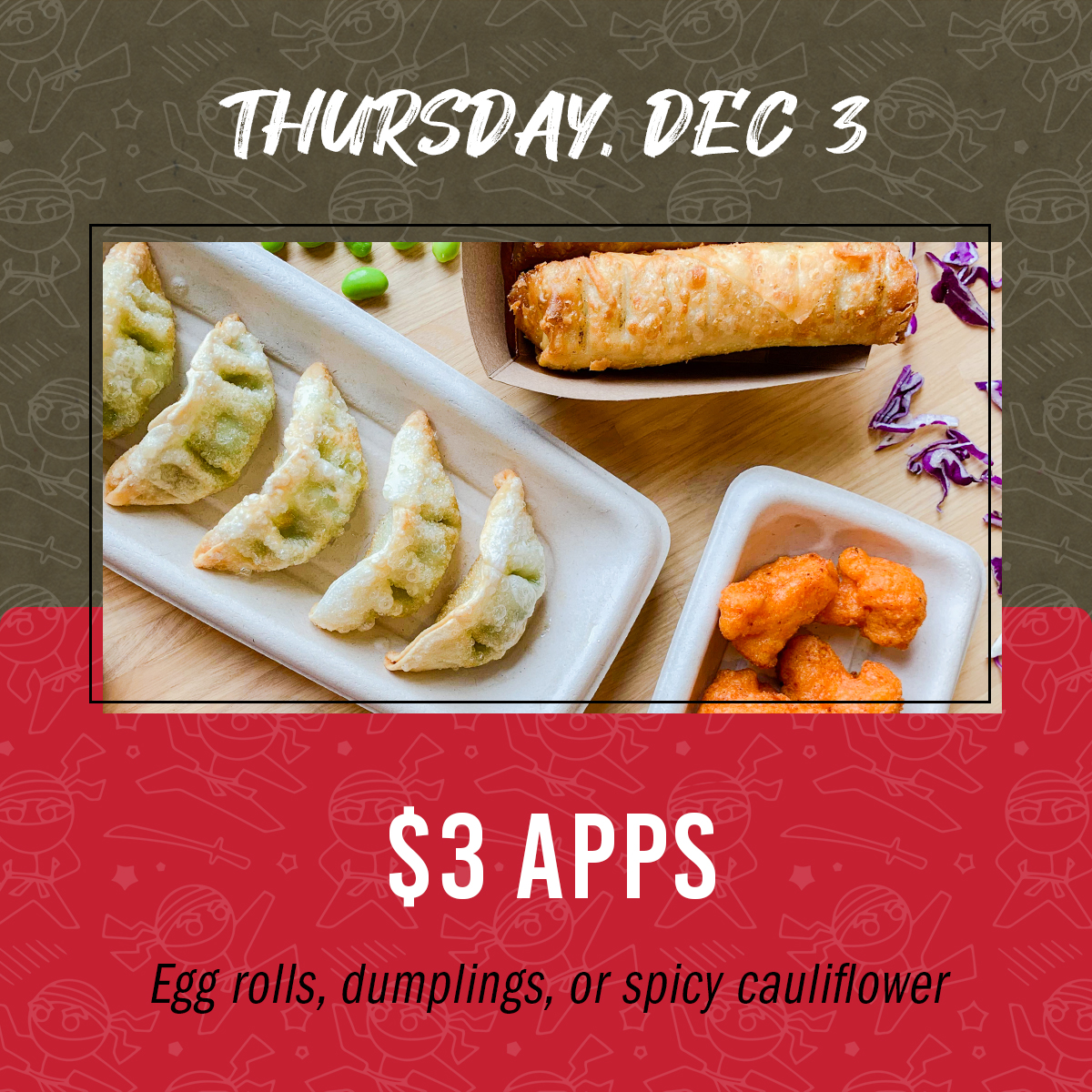 Day 3: Thursday, December 3rd, 2020
Sus Hi Eatstation is giving you options! (Sus Hi, you are too good to me)
Will it be dumplings, egg rolls, or spicy cauliflower?
I think I'm going to need some help with this because I can't decide which app I want. I want them all!!
BTW, you can choose either the pork dumplings or the vegan edamame dumplings.
Uh, so technically that's FOUR options hehe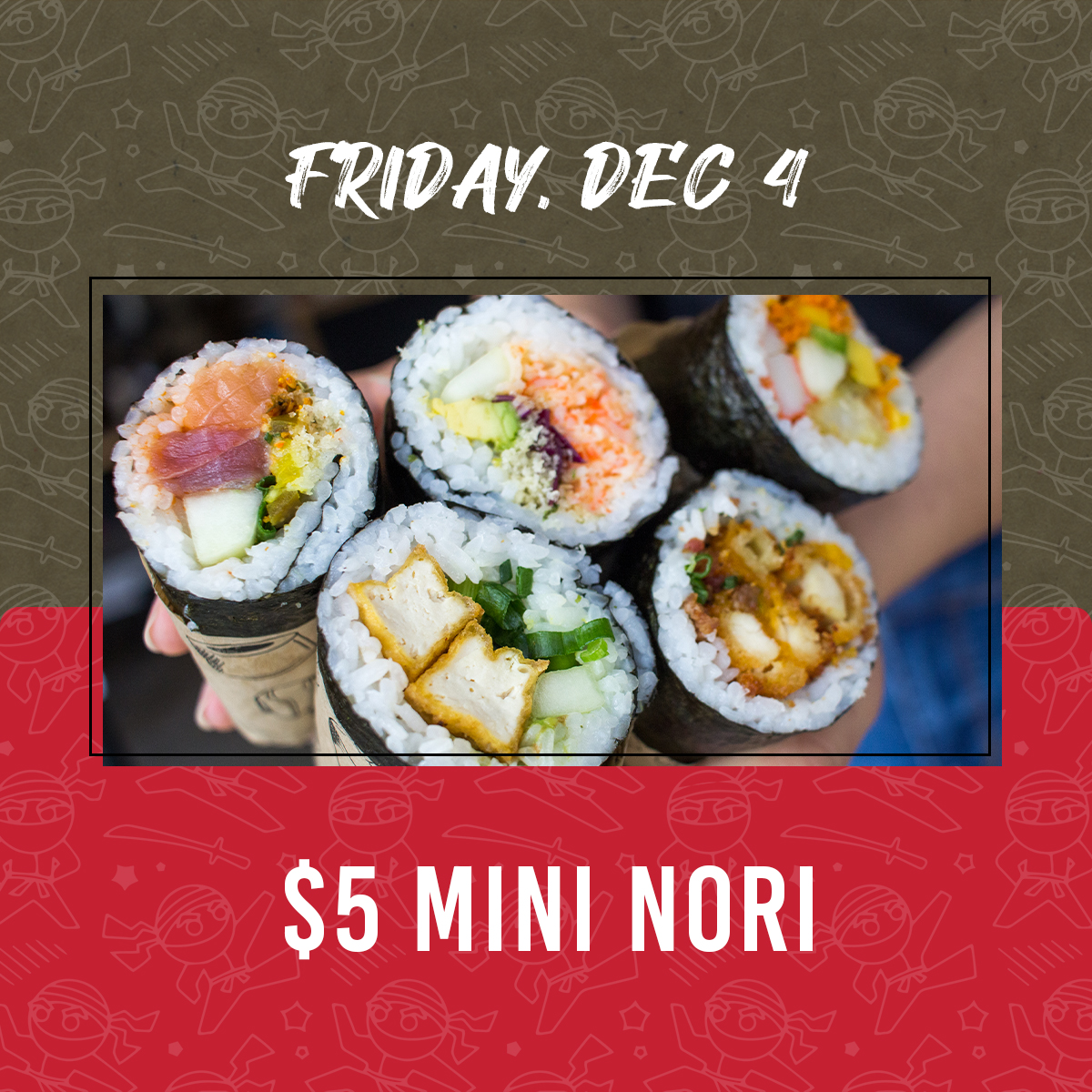 Day 4: Friday, December 4th, 2020
We are approaching the end of the Ninja Week!
But Sus Hi will NOT let you down with those epic deals…
Because, holy cow, $5 mini nori? 😱 Uhh, am I reading that correctly?
Only FIVE dollars! Crying!
You can choose from any of their Mini Nori presets or customize and make your own!
Click on the link below to view the digital menu and scroll to the very bottom to see those presets.
My fav is the Chicka Wow Wow. Ya girl likes her chicken tempura 👌🏼
View Sus Hi Eatstation's digital menu here!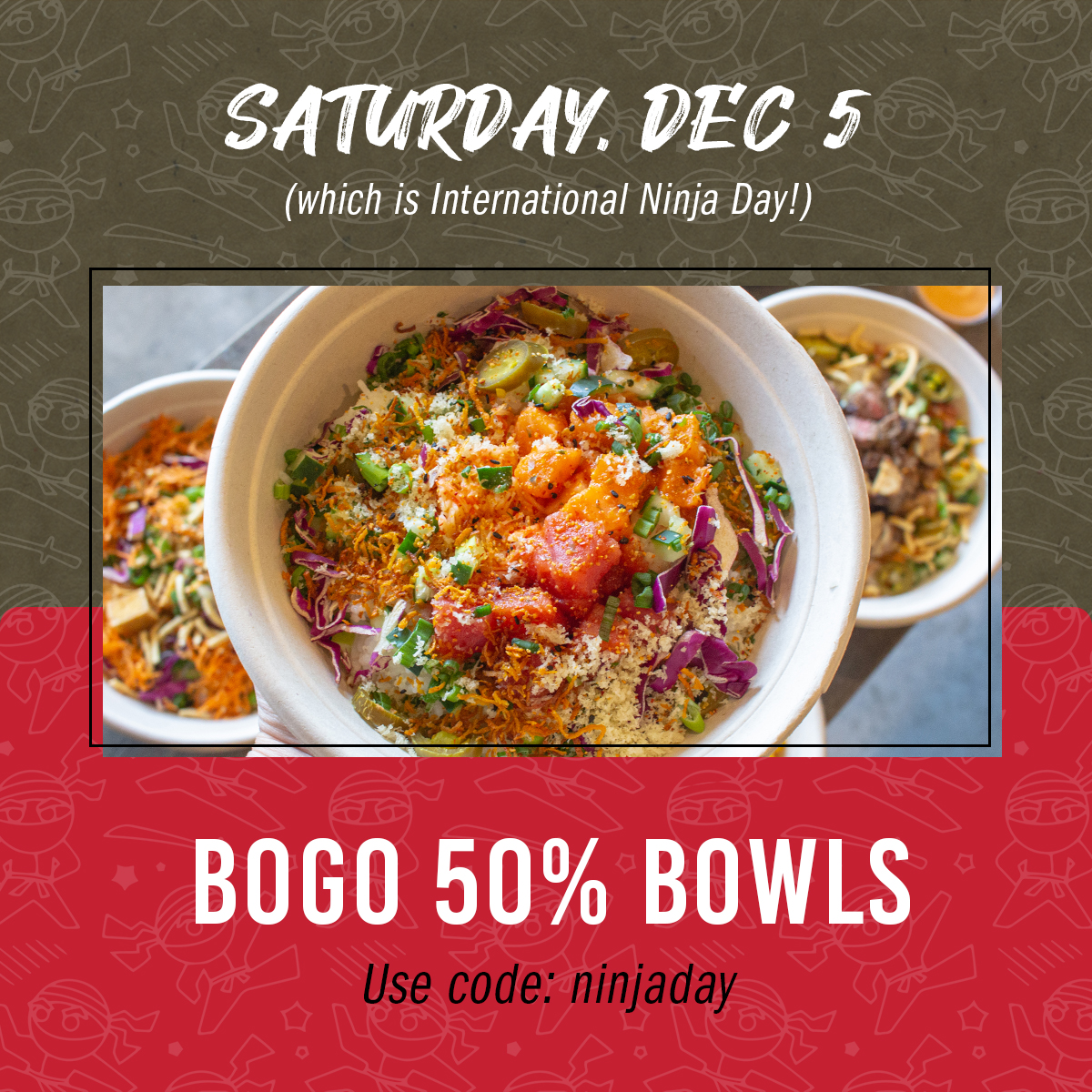 Day 5: Saturday, December 5th, 2020
And finally but not least…
Sus Hi Eatstation really did save the best for last, you guys.
👉🏼 BUY ONE, GET ONE 50% OFF BOWLS!!
Believe me when I tell you – bowls are everythinggg.
It's their #1 selling item. So for Sus Hi to do a crazy deal on this…
Wow, I'm just thanking the sushi gods in heaven right now. Yaas 😭🙏🏼
You can get this deal in-store at any of the Dojos or use the code 'ninjaday' at checkout on the Sus Hi app!
And that's all, folks! That completes all the different deals every day for Sus Hi Eatstation's epic Ninja Week!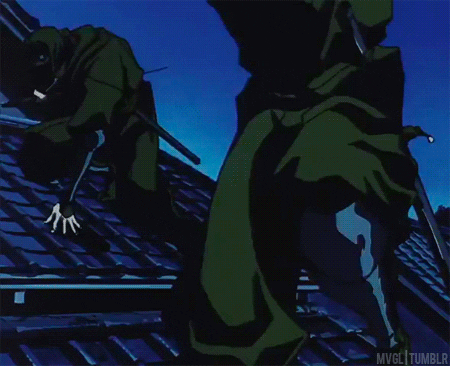 So why Ninja Week though? What's the meaning behind it?
Well, if you didn't know – Sus Hi Eatstation is themed ninja.
(I mean, the logo has a cute ninja face on it – kawaii)
And the real International Ninja Day is on December 5th!
So, Sus Hi took it into their own hands to celebrate this holiday for more than just one day!
And that's why Ninja Week was born!
They love their Ninjas! ❤❤
I hope to see you at the Dojo for these upcoming deals. I am beyond excited!! Happy Ninja Week!
Ninja out!
Download Sus Hi Eatstation's app for iOS