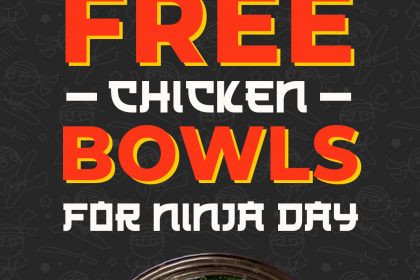 Hi Ninja Fam!!
As we are nearing the end of the year, there are so many things to be thankful for. Some are thankful for their friends and family, others are grateful to have a job that they love and are passionate about. Here at Sus Hi Eatstation, we are thankful to all of our loyal ninjas who support us and enjoy coming in to have their favorite custom roll, bowl, or burrito. I'm personally grateful for their iconic Triple X sauce, there is nothing quite like it ❤.
So in honor of the season of giving, we are so excited to announce that Ninja Day is back!!!

Ninja Day is back for one day only, on December 5th, at all dojo locations, Sus Hi will be offering free chicken tempura bowls. Yes totally, 100% free. The only catch is, you must dress up like a Ninja. That's literally it, a free juicy, yummy chicken tempura bowl can be yours just by dressing like a Ninja. Ninja Day is a very important holiday to us (Fun Fact: it's actually an international holiday!) and Sus Hi has been celebrating it for nine years!! 
Here are our requirements for Ninja Day: Feel free to incorporate one or all!
Wear a headband (ex: use a tie or long ribbon)

Wear a mask (sorry, covid face masks do not count! you can make a mask out of a t-shirt, stockings, bandana, etc) 

Wear all black (all black clothes from head to toe – like a ninja!)

Wear an actual ninja costume (have a full-on Naruto outfit, we'd love to see)

The more creative, the better! 
Soon you'll be on your way to a free and delicious bowl! Although the bowl is *not* customizable, it does come stacked with some yummy add-ons! 
Free Ninja Bowl comes with:
White rice

Chicken tempura

Cheese

Bacon

Cucumber

Scallions

Tempura flakes

Trifecta sauces (spicy mayo, white sauce, and sweet soy)
Sounds good to me!

Once again please be sure to stop in any dojo location, Monday, December 5th, dressed like a Ninja, and pick up your free Ninja Bowl!! Offer is available all day, and no purchase necessary. And please tag @sushieatstation to show us all your Ninja looks, we can't wait to see you! 
Until next time ninjas ✌️