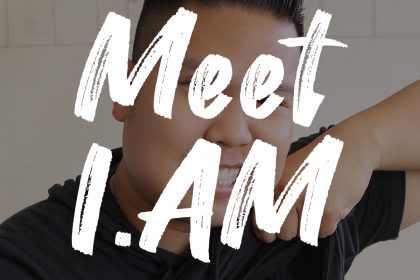 Meet the Team – IAM
Hi-Ya Ninjas! Welcome to part 5 of our series- "Meet the Team", where we get up close and personal about the Master Team and Ninjas behind the scenes! I asked these ninjas a bunch of questions about themselves and learned exciting things about them! I'm your host, Sunshine and I'll be taking you through these amazing ninjas and the stories behind them.
Today we'll be talking about Milton Tu, AKA Master IAM!

IAM is our EPIC VIDEO DIRECTOR. 💯💯 He creates epic videos, music videos, and commercials for Sus Hi. These videos are all over our social media and Youtube Channel! (Cinematic-style quality, def check these out 👌🏾)
He's been with the company since August 2016 starting as a ninja to learn the ropes, but then moved to full time EPIC movie production 🙌🏾
So IAM, what's the story behind your ninja name?
IAM: "The story about my ninja name is that the words "I AM" are the most powerful words you can say for yourself. For example "I am strong!" "I am successful!" "I am great!" "I am the best!" "I am happiness!" "I am blessed!" and so fourth. I chose it to remind myself and others that you and I are powerful and what we say after "I AM" creates our life and our reality. So make it positive, powerful, great, and beautiful! As well as to always do the right thing no matter what."
Sunshine: I love this! That story makes "IAM" such an amazing and inspiring ninja name!
What were you doing before Sus-Hi?
IAM: "I did and still do freelance videography/marketing for different clients like Microjig, We The Best (DJ Khaled anyone?!?), Nasty Beatmakers, and more."
Sunshine: IAM currently still works with Microjig and does free-lance work from time to time for different clients.
How does it feel being a part of the team?
IAM: "I love being part of the Sus Hi team, it's a family and we care and help each other. As a team, we come up with great ideas for marketing, videos, promotions, etc."
What's your favorite part about working at Sus Hi?
IAM: "I love being able to utilize my skills in filming and editing to create amazing videos and commercials as well as being part of the creative process for marketing strategies. This allows me to truly express myself with creativity and passion."
What is your passion?
IAM: "My passion is to entertain and help my clients express their business and/or lifestyle through my creative videography marketing work."
What do you do on your days off?
IAM: "I enjoy working out, eating out, watching football, playing xbox, watching movies, tv shows, attend concerts, football games, and travel as much as I can."
What's your favorite Sus-Hi meal?
IAM: "I usually get a brown rice bowl with steak, tempura chicken, and spicy krab with cheese, bacon, scallions, all the greens (lettuce, edamame beans, and avocado), all the crunchies (tempura flakes and wontons), mangos, sweet potato, spicy mayo, white sauce, and Triple X."
Hope you enjoyed, Ninjas!
Here are some of IAM's EPIC videos from our youtube channel!
I'm in Love with the Dojo | O.T. Genasis – CoCo Parody – YouTube
Lil Monk – "Sushi Gang" Official Music Video 4k – YouTube
Create your own sushi at this Ninja themed restaurant!! 🔥😲 – YouTube